Want to nail your first interview? Take this advice from our CEO.
Liz Wessel was a former Associate Product Marketing Manager at Google for 2 years before starting WayUp to create more jobs for college students. As WayUp's CEO, Liz has interviewed hundreds of candidates – some of whom impressed her, and some of whom…well, let's just say they didn't get a second-round interview.
Her method for a successful interview? REAF: research, enthusiasm, ask questions, and follow up. Here's how you can rock and REAF your way into landing a second-round interview.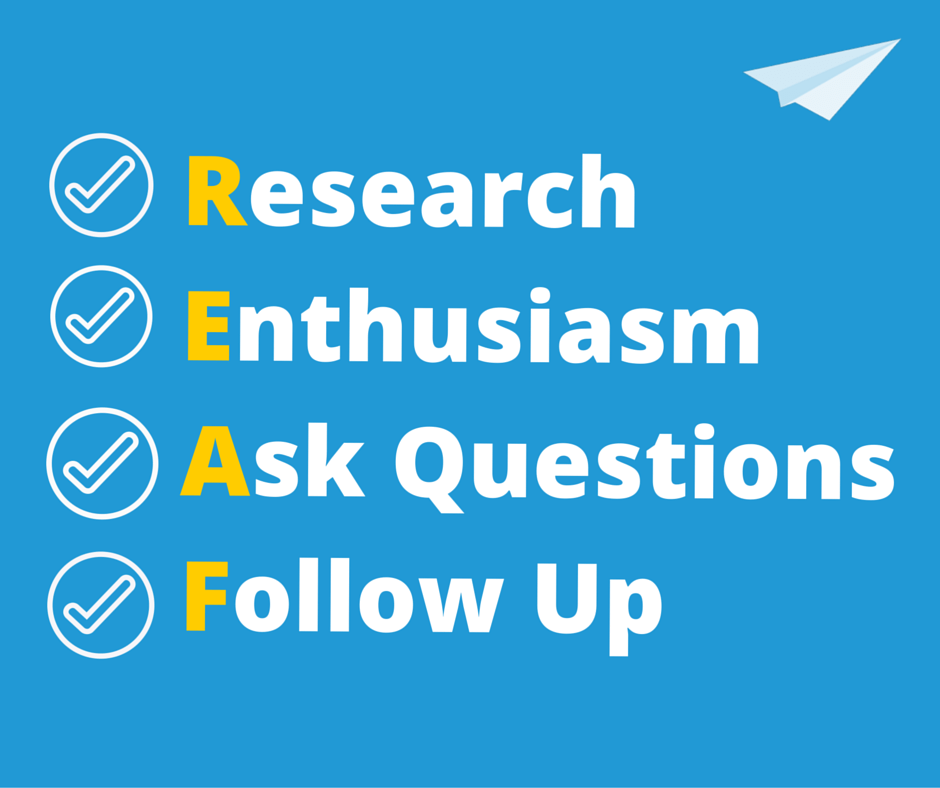 Research
There are the 3 things you should know like the back of your hand before you walk into your interview: the company, the job, and your interviewer.
"Look for 3 things that you think are going to surprise your interviewer – things you think the interviewer doesn't even know about the company," says Liz, who read a book about Google in preparation for her interview and ended up surprising her interviewer by referencing the name of the person who created Google's logo. It made a positive impression that eventually led to her full-time offer.
When it comes to researching the job, Liz says to look employees up on the company website who have the same or a similar position title, or to find their LinkedIn or Twitter accounts. This will allow you to see what kinds of projects they've carried out in the role and help you to have a better understanding of what your responsibilities will be.
Finally, research the actual person you'll be interviewing with. While you may not know who you'll be interviewing with in advance, it's ok to ask in order to find out. Look for information on the person and find out where they went to school and other fun facts about them. You may come across a commonality that you can naturally bring up during your interview to make a stronger connection!
Enthusiasm
Assuming your interviewer isn't already in HR, people are volunteering their own time out of their work day to interview you–and there's nothing worse than sacrificing time away from your work to meet with someone who doesn't even want to be there. "[Candidates] try to play it cool," Liz says. "I don't want to hire you if you're too cool for this company."
You can convey enthusiasm through great posture and interview body language. Make sure you're smiling and engaging with your interviewer. Make comments like, "I'm so excited to be meeting you!" and "Thanks so much for taking the time to speak with me!" Your positive attitude will go a long way.
Ask questions
You should have 3 questions minimum prepared for the end of your interview. An example of a bad question is, "If I weren't going to get the role, what would the reason be for that?" because this type of question puts the interviewer in an awkward position. Instead, Liz recommends asking, "Where would I have the most opportunity to learn in this role?" to get feedback on your interview weaknesses.
Liz's two favorite questions to receive are "What makes the employees at your company all-stars? and "What keeps you up at night?"  The first is great because it can give you insight into how you can be successful at the company – and the answer can help you display those traits during your second interview. "The second question shows me they care about the challenges the company is facing," Liz adds.
Follow-up
There are two email addresses you should have by the end of an interview: the email of your recruiter and your interviewer. Assuming you already have access to your recruiter's email, you can politely ask for your interviewer for his or her business card in case you'd like to follow up with any questions. If your interviewer says no, don't take it personally. "They're probably interviewing a lot of different candidates and don't want to be spammed with 50 questions."
Liz recommends you follow up over email thanking them for their time within 12 hours of the interview. For your email to the interviewer, Liz recommends adding in a "P.S." that either makes the interviewer smile or reminds him or her of the commonalities you shared during your interview.
What if you don't hear back? Liz says that you shouldn't assume you'll get a response immediately after your follow-up – and if you don't, that doesn't mean you didn't get the job. "I didn't receive an offer from Google until 2 or 3 months after I interviewed – let alone the 5 months it took from the time I submitted my application," Liz said. However, if your interviewer says that you will hear back at the end of March and you haven't heard back on April 1st, it's ok to send a note asking about the status of your application.
With these tips, you can confidently walk into any interviewer prepared to answer questions about the role, the company, and how you can contribute to the business.