For a lot of the most exclusive companies, it's recruiting season. That means coming out to Career Fairs, Job Fairs, panels, networking events, coffee chats, and way more. Top companies are doing everything they can to get on campus and meet with top talent.
But there's only so much time to look for great talent—which is why you have to make yourself easy to find.
Here's how to stand out at a Career Fair, networking event, or any other in-person, professional opportunity.
1. Research, Plan, Strategize
One of the best ways to succeed at a Career Fair or networking event is to do your homework. Here's some of the stuff you're going to want to find out:
Who's going to be there
Basic info on the companies showing up
What sorts of roles they hire for
This info will help you make your top ten or top five list, which is a good way to set goals. For example, I'm going to put my resume in—at least—the hands of recruiters from eight of my top ten companies.
Learn a little bit about each company: what they do, how big they are, and what kinds of roles they hire for. This way, you can know whether or not they're right for your experience, skills, and long-term goals.
2. Come Prepared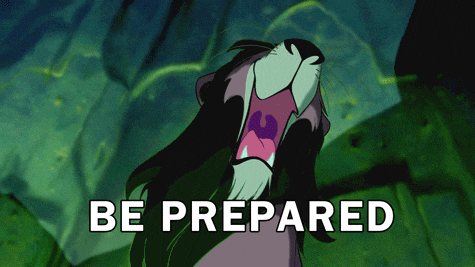 You want to look cool, calm, and collected at a Career Fair (or any other event), so pack and dress accordingly.
In terms of dress, you want to look nice, but not naive or tactless, so dress accordingly (check out the "Networking Guru" outfit in this interview/event style guide). Make sure you follow event-specific dress codes (if there are any). You don't want to be uncomfortable or overly sweaty, and given that these usually take place in crowded conference halls or gymnasium-type places, that can be a risk when wearing a heavy suit or jacket. So, avoid the three-piece, wool suit and opt for a "smart casual" look instead. A nice button-down or blouse and dark jeans are usually entirely acceptable.
Don't bring too much to a Career Fair or networking event. You'll look silly carrying around an over-stuffed backpack or a pulling a resume out of a huge bunch of papers. Just bring a small bag (if any), a folder or leather folio containing copies of your resume, and yourself.
3. Make The Transactions
You want to make a genuine connection with your interviewers, but at the end of the day, going to a  Career Fair or networking event is all about the "next steps." And the only way to move on to the next phase of the process is to take action while you're there. Here's what you need to do:
After making a polite, enthusiastic first impression, listening to their spiel, and telling them what you're passionate about, give them a copy of your resume and ask for a business card. Let them know you're going to follow up and you look forward to connecting and learning more. If they give out any other next steps (like "go to this website" or "submit an app through our system"), then be sure that you do that before you reach out.
It's great to connect with recruiters as a fellow human being, but at the end of the day, it's going to be hard for them to really remember each person they've talked to and what they're about. That's why you need to get your resume in their hands and their business card in your wallet.
The same goes for you: You might not remember the details of every conversation at the end of the event or the day, so make sure you take notes somewhere about the important details, conversational highlights, and any specific actions you need to take. (Pro-tip: Don't take notes while talking to the recruiter, rather, use their business card as a place to jot down key talking points to help jog your memory later on.)
4. Follow Up With Action Items
After you've successfully completed the above three steps, you're going to want to follow up with the recruiter you spoke to at the event. Be sure to touch on anything specific you may have noted like a personal detail you remember about them or a website/application they told you to check out.
Things to do in your follow-up:
Thank them for their time
Tell them it was nice meeting them
Include an interesting personal detail to stand out
Let them know you submitted an app and look forward to hearing from them
If there's no app, try to ask an insightful question or for specific advice to establish a rapport
Avoid doing stuff like this:
Sounding like a template (if it reads like a generic response, it is and they won't care about your follow-up)
Being awkward, unprofessional, or try too hard to be funny (it's a business transaction)
Asking them questions that you can easily have answered on their website or Wikipedia (it's okay to ask some questions, but you don't want to seem unintelligent or unresourceful)
The follow-up email is an excellent touch of professionalism, which is one of the few traits you can actually demonstrate in this type of limited interaction, so don't waste this opportunity.
One Small Step For You, One Giant Leap At A Career
None of these steps take much effort on your part. However, any one of them can end up being a major signal to recruiters that you're a person who is prepared for the working world. One of these tips could help demonstrate that you're ready for the big leagues of a major internship or full-time, post-grad gig.
So, be thoughtful about your next Career Fair or networking event, and you might just end up with a job that starts an amazing career.
For more recruiting, interviewing, and application tips, check out the WayUp Guide.