The private equity and venture capital space is one of the most exciting and dynamic industries to work in. So much so, that job descriptions often fall short of capturing the incredible opportunities and fulfilling work that professionals get to do.
This being the case, those who want to pursue a career in PE and VC don't always have a clear picture of what it looks like. To shed some light on what a career in investing entails, we spoke with a pair of former analysts and current associates at global software investor Insight Partners about their day-to-day work. Insight Partners invests in high-growth technology, software, and Internet startup and ScaleUp companies that are driving transformative change in their industries
Sourcing
Analysts are responsible for identifying new investment opportunities in the form of businesses and products, or what's known in the industry as "sourcing." At Insight Partners, analysts look to source promising companies in a variety of software subsectors such as FinTech, HealthTech, cybersecurity and more.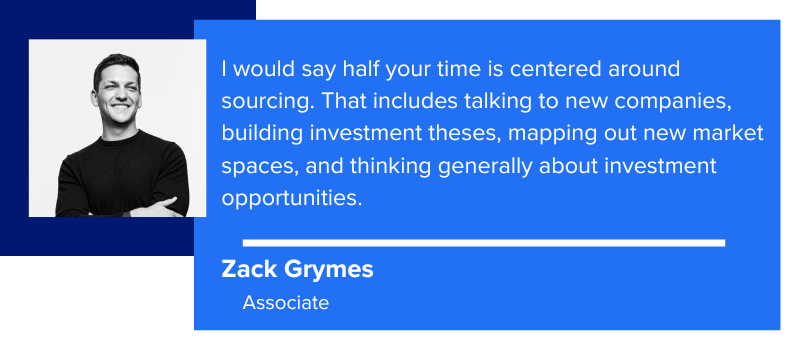 Simply put, sourcing is the active process of identifying and evaluating potential investment prospects. The actual undertaking of that can consist of anything from market research and referrals to outreach and pitching. What's so enjoyable about this part of the job is the excitement surrounding the discovery of a new business or opportunity that no one has come across before!
Talking to Founders
A big part of sourcing is talking to founders and executives. As an analyst, you're given the opportunity to speak directly with these founders as they share what oftentimes is their life work, and something they have built from the ground up. In addition, being able to speak with some of the smartest subject matter experts across a variety of industries and sectors presents analysts with a massive opportunity to grow and learn about different technologies and domains.
Zack went on to say how thought-provoking it is to listen to someone sharing the most interesting things that they know—things that might have taken them years to find out, test, or hypothesize. For Zack, having access to that kind of information and learning more about the world are what he really loved about being an analyst.
Becoming a Market Expert
Although talking to founders is a crucial aspect of being an analyst, it is just one of many levers pulled on the track to becoming a market expert. Analysts also need to be well-versed and informed on particular markets in order to evaluate the potential of a business. While much of this is done by individual research, the analysts at Insight Partners have the opportunity to learn from those around them, which makes for an incredible culture of learning and development for all.
For Ana Hugener, the Onsite Diligence & Growth Strategy team and the broader Insight Onsite team were two of the biggest influences to her becoming a market expert. The Insight Onsite team is made up of 140+ operational experts who work side-by-side with Insight's portfolio companies in the key functional areas of a software company, including talent, sales, marketing, product, engineering and strategy. Onsite's different Centers of Excellence mirror these company functions.
These Centers of Excellence allow analysts the opportunity to grow in a variety of fields while also setting themselves up for future opportunities.
Diligence
While becoming a market expert is crucial for sourcing, it is equally as important for conducting diligence. The end-to-end diligence for new investment opportunities can consist of talking to founders about what they are building, telling them about Insight Partners, learning about markets, and more. Whether that's looking at the model, the customer data, the competitive landscape or talking to customers, analysts at even the most junior level are given the opportunity to get involved.
In our conversations with Ana and Zack, one thing they made clear about diligence is how much Insight allows entry-level and junior-level employees to get involved. Right from the get-go, analysts are making lasting impacts and contributions to the firm and their portfolio companies.
Meaningful Work with Meaningful Companies
Whether it's sourcing, diligence, or portfolio work, one of the most gratifying aspects of working as an analyst at Insight Partners is the opportunity to do meaningful work with companies that make a difference.
After meeting with these successful analysts, it became clear that the software and technology industry is an incredibly fascinating and ever-expanding industry. This being the case, there is no shortage of interesting companies to work with.
For Zack, his favorite portfolio company that he's worked with sells software to pharmaceutical companies to help with clinical trials. The software allows the companies to simulate parts of the clinical trial process so that they can get FDA approval for drugs faster. For Zack, this meant he was helping a company that might be responsible for getting life-saving medications and drugs to market faster. This was an incredibly fulfilling opportunity in his day-to-day work as an analyst.
For Ana, her favorite companies to work with were startups that were early on in their growth journey. Ana claimed that these companies are so interesting to work with because of all the questions that still need to be answered and the opportunity to have a real impact on the success of a business. For Ana, growing something from these early stages is what made the analyst role so appealing for her.
Whether it's sourcing, talking to founders, becoming a market expert, doing diligence, or making meaningful impacts on businesses, the work of an analyst at Insight Partners is an unbounded position with infinite potential. If you're interested in a role where you can launch your career in private equity and venture capital, check out some of Insight Partners' open roles today.