We once witnessed a job seeker come into an interview in a cocktail dress. While that was enough to get us started on writing this article, admittedly, we could all use a little help when it comes to dressing for different types of interviews.
When you're dressing for an interview, you always want to err on the side of "nicer than normal." While that can mean a lot of different things to many different people, there are few no-exceptions rules to keep in mind: no wrinkles, nothing sheer or see-through, nothing tattered or stained and definitely nothing too short or low-cut. Sounds simple enough until you consider the culture of dress at startups versus corporate offices.The way you dress will be an indicator to your interviewer of how well you'll fit into the company's culture.
We put together a quick dress kit to help you decide what to wear to your interview.
Startups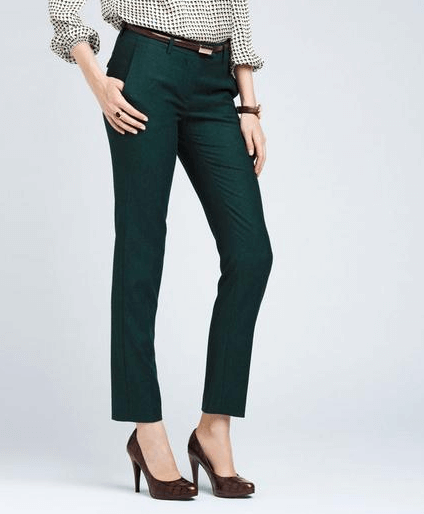 Startups tend to be all about casual or business casual attire – a nebulous term, we know. Here's what we've dubbed to be in the "safe zone" for interviews at a startup: a nice button-down and casual slacks work well for both men and women (or a blouse and slacks for women). A casual blazer isn't necessary, but it's always a nice touch, as is a nice casual, yet appropriate dress with a blazer.
Try to steer clear of jeans: You want to make sure you don't look too casual walking into your interview. You can, however, show off your personality with some colored pants (shown below). In terms of shoes, the safest way to go is close-toed–that means no sandals or flip-flops. However, we'll give a green light for flats, loafers and small, close-toed heels.
Corporate
For your interview with the JPMorgan Chase's of the world, your attire will have all your friends saying, "I see you!"
For men, this usually means wearing a two-piece suit, tie and shined shoes. Try to steer clear of bright colors, since some corporate offices are more conservative when it comes to anything besides navy, gray, white or black, and you're better off being safe. Note: If you've ever watched the show "Suits," that's a great reference point for how to dress for a corporate interview.
For women, there are more options available (which makes it all the more confusing!). You can wear anything from a nice blouse and skirt or slacks to a professional dress. The same rule applies when it comes to that pop of color – try to dress in more muted tones for your interview.
If you choose to wear a dress or a skirt, a good rule of thumb is to make sure you're not wearing anything too short; the hem should be relatively close to your knees. If you're still unsure about length, take it back to the middle school uniform regulation days: Let your arms hang to your sides – then see if your hem is longer than the tip of your middle finger. For shoes, it's usually a good idea to wear small, close toed heels, but if you're uncomfortable wearing them, then a nice pair of flats works perfectly. It's more important for you to feel your best when you're heading off to your interview!
For corporations like Google or Red Bull, you probably shouldn't dress as formally as you would when walking into an interview at a bank or a law firm. Business casual attire is definitely safest for these interviews.
Remember that every company is different, so even with this guide, it's always a good idea to do a quick Google image search of the company's employees – chances are, the team has been featured recently in a press article or on their own company blog, so you'll be able to get some sense of what expectations are when it comes to attire.
Good luck on your next interview – we know you'll be dressed to impress!