Finding the right first job or internship is a monumental task. Finding a company that checks all your boxes can be almost as hard as qualifying for the role in the first place.
In order to cut down on some of the work in your decision, we're profiling a company with all of the right stuff: Thermo Fisher Scientific. They're the world leader in serving science (but don't worry, they hire way more than science majors).
If you're trying to figure out whether you'll be happy at a company, here are four key features to look out for.
1. A Mission You Can Get Behind—No Matter What Your Role Is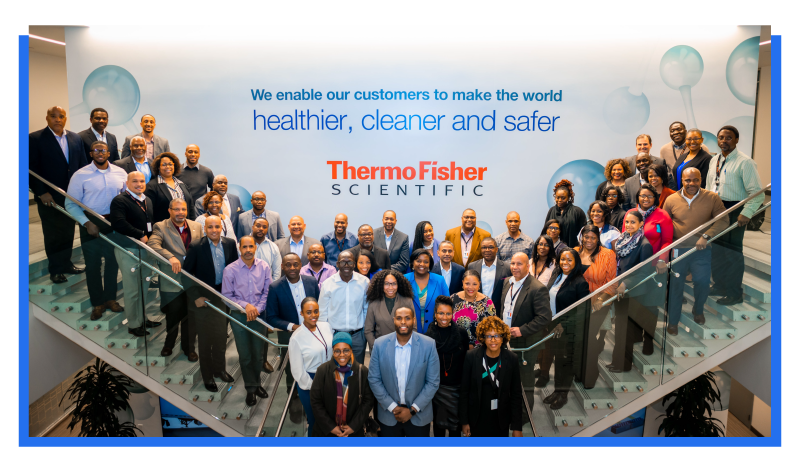 Like most people, you probably want to make the world a better place. The good news: Thermo Fisher does too. In fact, their mission is to make the world a healthier, cleaner, and safer place—and they accomplish this by serving science with a variety of products, supplies, and services.
All types of science professionals around the world utilize Thermo Fisher products. This could be a forensic investigator using Thermo Fisher DNA testing equipment, an arctic scientist testing ice cores to learn about climate change, and everything in between.
Whether you're working on the sales team getting the latest equipment into the hands of hospitals or on the technology team programming the interface of a microbiological incubator, you'll know that you're making an impact on the world when you make an impact on the business.
2. The Opportunity To Give Back
Thermo Fisher also gives back to the communities it serves through active involvement in its 110 global Community Action Committees, which help employees get involved in STEM-related charities and educational causes.
For example, the company's STEM Design Challenge pairs students with Thermo Fisher employees who help assist them in building bridges, robots, or other structures using foundational scientific principles. The company also runs a program that sends "labs in a box" and safety kits to classrooms without sufficient science education materials. Whether it's in the classroom with children or helping thousands through mass distribution efforts, employees at Thermo Fisher are given ample opportunity to give back.
This culture of giving is contagious: In 2018, Thermo Fisher employees donated more than 100,000 hours of their time to charitable causes.
3. A Real Commitment To Diversity And Inclusion
Most companies like to say they champion diversity and inclusion (after all, it is good for the health and future of a business). However, few companies can tout what Thermo Fisher can.
They've been recognized by the Women's Choice Award as one of the best places for women—and Millennial women specifically—to work. Mogul also named Thermo Fisher one of the most innovative companies when it comes to diversity and inclusion. They highlighted the company's diversity in leadership, rich network of employee resource groups, and commitment to philanthropy as important factors in their decision. These features of Thermo Fisher also contributed to their perfect Equality Index score, three years running.
The company has also been put on the Top 100 Companies for Remote Work List by Flexwork, which is a key element of inclusion, especially when considering the varying needs of a diverse workforce.
4. Mentorship And Managers Who Help You Advance
It's often said that people don't leave jobs, they leave managers. That's because your manager is in charge of both your day-to-day experience and your long-term growth at a company, so a bad one can ruin your experience at a job.
And finding a manager who can also serve as a mentor and role model is equally important. Seventy-five percent of executives say that mentorship has been critical to their career development. Why? Among other reasons, mentors help you find new opportunities to demonstrate your leadership and put you in a position to secure promotions, awards, and recognition.
Thermo Fisher has both a formal mentorship program and plenty of opportunities to find an informal mentor through networking. Through a wide variety of events—from the company's Employee Resource Groups or run by leaders around the company—Thermo Fisher colleagues are given the chance to learn from and connect with senior leadership.
Plus, the company's culture of learning, development, and teamwork ensures that you're actually growing in the ways you need to so you'll be ready to take the next step when it's offered to you.
Ready to start a career that you can be happy in? Learn more about Thermo Fisher on WayUp!