The transition from intern to full-timer isn't easy. In fact, even getting a full-time offer takes hard work. But if you're lucky enough to secure a full-time role at The Clorox Company—home to dozens of iconic brands—one thing's for sure: You're going to learn a lot, and fast.
We caught up with five full-timers at the Fortune 500 company about what they learned in their first years at Clorox. Here's what they told us.
Ashley Found Out You Don't Have To Pick Between Being Supported And Being Challenged
No matter how hard you study or how great your resume is, your first full-time job is a huge adjustment. You want to be challenged so that you can become a full-fledged professional ASAP, but you also need to be supported as you take on this entirely new chapter of your life. Luckily for Ashley, a Staff Analyst on the finance team, she didn't have to choose between those when she joined Clorox after graduation.
"Everyone has been super nice and helpful," she says. "My manager takes time away from her busy day to ensure that I fully understand my role and deliverables. Whenever I have any questions, someone is always there to offer an answer or recommend who to talk to next."
But it wasn't like she was on training wheels either. In addition to her work, the Clorox team challenged her to build new skills through courses and contribute to innovation discussions with other teams. No matter how much work she had, though, her managers and coworkers were there to assist her and look out for her wellbeing.
Having this support didn't just allow her to succeed at work, but to feel at home in an entirely new place.
"I moved out by myself to California without having any family here," she explains. "Once I got to Clorox, I had a new family."
Matthew Made It To A Manager Role From His Internship—Thanks To The Values He Picked Up
For many members of the Clorox team, what they learned in their internships stuck with them beyond just that first role. Matthew is one of those people.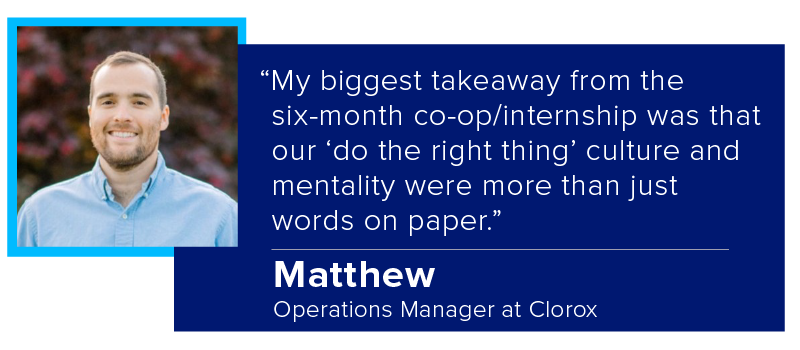 "My biggest takeaway from the six-month co-op/internship was that our 'do the right thing' culture and mentality were more than just words on paper," he says.
In his operations role, he makes a lot of decisions that impact on how people work and the integrity with which Clorox products are made. Knowing how seriously the company takes their values really did pay off, too, because prioritizing those values in his own work and leading with integrity got him to where he is today: an Operations Manager role.
And learning to work the right way wasn't the only benefit for Matthew, either.
"Some of my best friends to this day are CLXers I met during my internship," he says.
Tara Saw That Inclusion And Diversity Follow Naturally From An Emphasis On Doing The Right Thing
"Clorox really lives our values," Tara, an R&D scientist, explains. "I think the biggest one is the emphasis on 'do the right thing.' We think all the time about what is the right thing to do and how to put people first, and we prioritize that over any other options."
That goes beyond efforts to include sustainability in manufacturing processes and give back to communities in need, too. It also means looking out for the people and culture at Clorox.
"I'm very proud of the work that Clorox does for Inclusion & Diversity. Our motto is 'bring your whole self to work' and I personally feel empowered to do so," she says. "I've received career mentorship through the women's employee resource group and have a supportive network with the Pride group."
But I&D isn't just something Tara enjoys. She actively contributes to it.
"I've had the opportunity to partner with the University of Illinois and the Out for Undergrad Engineering Conference to recruit top diverse talent for the R&D internship program," she says. "We also prioritize I&D on our teams through unconscious bias training and team building exercises."
Knowing this isn't just a bonus to Tara. It's a sign to her that her ideas, identity, and career are taken seriously at the company.
Working In A Culture Like Clorox's Leads To More Growth (And Maybe Even Faster Promotions)
Asante is a Senior Analyst on the sales team, but he didn't start that way. After his internship, he got the return offer for an entry-level role and started at Clorox after graduation. That's when things really started to pick up for him.
"Everyone wanted to help me get the resources I needed to be successful," he says. "The manager who hired me was also big on being your true self. He'd ask me things about my culture and lifestyle and even more importantly, he'd reciprocate the interaction and share things about himself. I never felt 'different' as a member of Scott's team. I could be me. That fostered a drive and hunger to want to grow with the company."
Working at one of the largest consumer packaged goods companies in the world, Asante knew there'd be no shortage of career opportunities. And his drive was met with equal enthusiasm from his managers, who let him know just what he had to do to grow his career.
"If there is a role you're interested in, you can let your manager know," he says. "But you're also challenged to do the backend work to gain visibility for the value you've added to show you can thrive in that new position."
Now, in his role as a Senior Sales Analyst, he's continuing to learn from the people around him and aim for the next goal.
You Don't Have To Wait To Contribute To Major Initiatives (And That's Really Good For Your Career)
Being home to so many major brands, Clorox is overflowing with opportunities to take part in high-impact work. And that goes for first-years, too. That's one of the things Ariana, a Brand Manager at Clorox, likes best about her job so far.
"I've met some of the smartest people, learned about real-world marketing, and experienced what it's like to run a business," Ariana says. "During my first year alone, I launched a product, presented to Clorox's CMO, and participated in a brand video shoot. These experiences allowed me to learn through hands-on work that my peers at other companies weren't getting so early on."
These experiences aren't just for show either. They're a part of a concrete growth plan she's put together with her managers.
"Career planning starts early on at Clorox. I've had the opportunity to chart out different career options, and to cater my experiences and projects to areas that I would like to develop my skills in," Ariana says. "My three managers to date have all been very supportive of ensuring that my work not only progresses business objectives but also contributes to my career aspirations."
Apply These Lessons (By Learning Some Of Your Own)
Think you're ready to put this knowledge to the test. Start by checking out the open roles at The Clorox Company on WayUp!