Everyone has been affected by the COVID-19 pandemic. The physical and financial health of millions of people has been threatened by this unprecedented disruption. Seeing this, L'Oréal immediately leveraged its status as a global beauty tech giant to help the communities it serves—and beyond—through a response effort focused around three pillars:
Ensuring the health and wellbeing of L'Oréal employees
Galvanizing the company to contribute to the greater good
Taking this time to transform the way L'Oréal works
While the company was quick to enact protective measures for its employees, like work-from-home policies and stringent cleanliness procedures for manufacturing environments, some of the most important work was done to protect communities outside the company.
1. Looking Beyond The Beauty Community—And Galvanizing Employees To Do The Same
When you're a global manufacturing and supply chain leader, you have the power to mobilize quickly to make impact when faced with a pressing need. Immediately after the pandemic began, L'Oréal facilities around the world began creating and packaging hand sanitizer for essential workers, healthcare facilities, and care homes.
As a part of their global COVID-19 relief efforts, L'Oréal donated $250,000 to Feeding America, which helps combat food insecurity caused by poverty, a problem which has grown since the start of the pandemic. In Europe, the L'Oréal foundation donated one million euros to its partner non-profit organizations fighting similar forms of insecurity across the Atlantic.
As the company outlined in its official COVID-19 response, "These establishments are our first line of defense against coronavirus and are committed to protecting us and curbing the epidemic every day." But it's not just the corporation that's helping out—employees are mobilizing as well. One of the pillars of the company's pandemic response is to "galvanize the company to contribute to the greater good." In that spirit, the company is matching the donations of their employees to Feeding America, dollar for dollar, up to $25,000.
2. Supporting Their Partners & Small Businesses
Beauty for all—one of the company's core philosophies—means looking beyond the bounds of their business to support those in need. In addition to the public health impacts of the pandemic, many in the beauty community were also suffering from economic disruption. Stylists, salons, suppliers, and small businesses of many kinds are essential parts of the industry—and L'Oréal made sure to provide relief to them.
Through donations, fundraising, and billing relief efforts, L'Oréal is jumping into action to help these small, vibrant businesses make it through. Partnering with organizations like the Professional Beauty Association, L'Oréal is helping to raise money for industry professionals who need assistance during the lockdown. Plus, for small businesses unable to get customers in the door, L'Oréal is delaying or freezing payments for their products.
3. Leading A Tech Transformation to Connect with Consumers – And Employees
COVID-19 forced many companies to quickly undergo technological transformations to adapt to an entirely remote working world, but L'Oréal took this as an opportunity to make industry-leading innovations.
In a time when many of us can't be physically with our friends, families, and communities, L'Oréal's teams also stepped up to the plate to use technology to spread happiness. Lisa Price, the founder of one of L'Oréal's beloved brands, Carol's Daughter, gave a virtual commencement speech to honor the class of 2020. Using the power of TikTok, multiple brands under the L'Oreal umbrella launched social gifting programs to build a sense of support during these unprecedented times. A partnership with Snap Camera was launched with eight of L'Oreal's Brand to create AR lenses for platforms like Skype, Youtube, and Twitch. Conference calls have never been more glamorous!
The teams behind all these innovations went through a tech transformation of their own as many employees transitioned to working fully at home. Even while not being able to be physically together, employees quickly mobilized to create ways to stay more connected than ever. The USA Head of Talent Acquisition, Sumita Banerjee, started teaching virtual Zumba classes for both employees and their families to participate, milestones like birthdays were celebrated with virtual fêtes, and beloved pets filled in for missed office mates.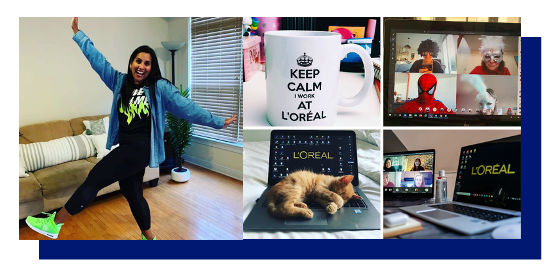 For members of the L'Oréal team, it'll never be easier (or safer) to connect with their peers —pandemic or not.
Innovating For Good Is Just Part Of The L'Oréal Culture
"We at L'Oréal USA feel a deep responsibility to do our part to help address this crisis in the many communities in which we live and work," L'Oréal USA CEO Stéphane Rinderknech said.
And while the COVID-19 crisis is new, this type of innovative response for the betterment of society is standard practice for L'Oréal. Whether it's technological innovations for sustainability or crafting diverse communities at work, the beauty technology giant has long considered its business an avenue for positive change.
Want to see how your career could help with efforts like these? Check out open opportunities at L'Oréal on WayUp!