So…You signed up for WayUp. You're now one step closer to getting hired.
We have millions of jobs waiting for you to check out! And: Every blue job you see, is one you are qualified to apply for.
To ensure that you're getting the most out of WayUp – it's really important that you know:
1. How to Find the Right Opportunities
2. How to Stand Out to Employers
3. Where to Find the Most Helpful Advice
See below for some tips and tricks for how to best use WayUp. Enjoy!
How to Find the Right Opportunities
All the jobs you see are personalized for you.
When a business goes to post a job on WayUp, they tell us the type of candidates that they're looking for. Whether it's students or recent grads from a certain school, with a certain major or with a certain skill, we make sure to match students with the jobs that they are qualified for, so you can be rest assured that all the jobs you're seeing are jobs that you are actually qualified to apply for based on your profile.
Difference between partner jobs and WayUp jobs
1. If a job has a blue button, then it's a WayUp job. These are jobs that YOU are qualified to apply for based on your profile and based on the employer's specifications. You can apply for 99% of WayUp jobs using your WayUp profile.
2. If a job has a greyish-purple button, then it's from our partners. You'll be brought to a third-party site where you can apply.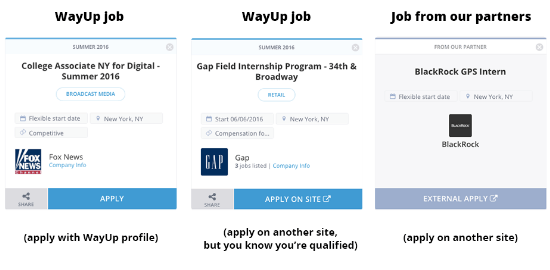 3. You can search through all jobs by using the filter-menu at the top of the screen.
Review your job preferences so you see jobs that you're actually interested in.
When you are logged in, click "Account Settings" on the top left, and select all of the kinds of jobs you want to see. By selecting your job preferences, we will make sure to show these types of jobs first when you are looking on WayUp and in any emails we send you!
How will you hear about jobs you qualify for?
Check out the rest of the "Account Settings" page. Make sure you have selected your preferred email contact and have given us your phone number so that employers (whose jobs you have applied to) can contact you!
When will you hear about these jobs?
Scroll a bit further down the "Account Settings" page, and you can tell us how often you want to hear from us AND what kinds of updates you want to get. For instance, if you are a senior or recent grad, we can make sure to only tell you about entry level roles.
Interested in SPECIFIC kinds of jobs? Use the filter bar.
So, you went crazy on your job preferences – we think that's awesome! We have a killer filter search to help you narrow done what jobs you want to find.

Go to the "Jobs Page," where you can filter down jobs by:
Time of year
Location
Type of job
Industry
If it's paid
If it's 1-click apply

Yes, you really can find a paid social media internship in Miami for second semester!
You can also choose to see jobs in order of relevancy (aka, how much they relate to your job preferences)or by how recently they were added to the site!
Don't have time to apply now? Save the job for later!
If you don't have time to apply this very minute, make sure you click the "Save" star on the job card. This will mark that job as saved, so that you don't forget to apply later…When you're out of class!
If you want more information on a job…
Click "Share" and then click "Visit public job page." Every single WayUp job has it's own web page that expands upon what you see in the job card!
And…If you want to tell your friends you are checking out this opportunity, feel free to share this public job page via Facebook or Twitter.

You can also share jobs via email…Perhaps with your parents?! This is a great way to let them know you are ON TOP of the job search :).
How to Stand Out to Employers
Make sure you fill out your student profile.
Filling out your student profile is one of the best things you can do to help your job search, and your chances of getting a job really increase when you do! In addition to showing your unique personality, it's important to highlight any skills and work experience that will make you stand out and completely fill out sections like "About Me," "Education" and "Internship & Work Experience."
Not sure what to put in your profile?
Not sure what to put in your profile? We've got your covered. Our tips for the perfect student profile will help you create the kind of online portfolio that will get you noticed.
Where to Find the Most Helpful Advice
We have WAY more than just jobs and internships. Check out the WayUp Guide.
WayUp has SO much more to offer in addition to millions of jobs and internships! Click "Career Advice" in the top right corner, which will take you to the WayUp Guide.
What's the WayUp Guide?
The WayUp Guide is your one-stop shop for anything and everything career-related. There are hundreds of comprehensive articles, videos and more that contain information about interview tips and resume tricks. The WayUp Guide is also filled with content that can help you succeed in your current role, if you already have a job!
BTW: In addition to the WayUp Guide, we also have a blog! You can also find some more fun and topical pieces, like "Why English Majors Makes the Best Hires" and "13 Things You Didn't Know About Working For Starbucks."
We update our blog every week! You can subscribe to receive our blog newsletter directly on the blog or by going to Account Settings.

If you want to keep up to date with our content…
Then follow us on social! Like us on Facebook, and Follow us on Instagram, Snapchat and Twitter!
We post many of our blog articles as well as pictures and videos from college campuses around the country, and we really, really like memes. Check us out!